Stand with Ukraine. Save peace in the world!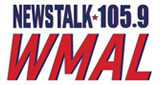 WMAL
WMAL is a broadcast radio station in Washington, DC, United States, providing News and Talk Radio on In Washington, DC on WMAL 630 AM and to Woodbridge, Virginia, United States on WMAL-FM 105.9 FM.
WMAL reviews
Chris Plante is a great way to wake up in the morning and not be woke in the morning

Love WMAL. I was on wrong station earlier.

CHRIS PLANTE...TRULY "GREAT STUFF" tempered by bat guano craziness! YOU'VE G.O.T. TO LOVE THAT !

Great programming, but the so called "traffic reports" are useless. The reports rarely cover anything on the southern side of the beltway or provide sufficient detail to avoid accidents and/or congested areas. Suggest getting a serious reporting organization or omitting this rather useless report from the programming schedule.

Apparently of all the people talking about the Presidential Records Act only Mark Levin has bothered to read it. There are ***NO*** criminal penalties stemming from this law. Trump has ***NO*** specific obligations under the law. All is negotiated between the Archivist and Trump ***PERIOD*** The remedy for either side if there is no agreement is civil court. How corrupt all this is is evident as the reason for the redactions is redacted.

canada is very upset if biden wins i live in alberta and we depend on are oil supplies to get to port etc pipe lines etc were screwed now big time usa u done a wrong thing for the world even tho trump says a lot of crap most will become true he says things people cant stand to hear the truth

I'm a pretty consistent listener and I was just listening to Vince Response to that person who asked about Biden calling this young kid a white supremest without seeing any facts and video. Vince talked around the issue and never answered that guy's question. The answer should be yes sue Biden 100%... Biden's arrogant attitude and unqualified comments insights violence across the country and we need to uncover who are the folks funding these NBC, MSNBC networks and shut them down.

They have Red Eye Radio before 5AM, worth a listen if you're up early.

Great radio station plus Chris Plante. What more could I want!

Congratulations on your switch from the COMMUNIST NEWS NETWORK (CNN) to FOX NEWS. Great choice from your corporate headquarters.