Stand with Ukraine. Save peace in the world!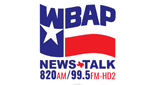 WBAP News Talk 820 AM
WBAP 820 AM is a broadcast radio station in Dallas, Texas, United States, providing News and Talk programming.
WBAP News Talk 820 AM reviews
Christopher Dukes

17.11.2022

Dan Bongino is the man. I listen to Dan religiously. Serving the left with common sense that leaves them in awe.

Your show is interesting at times, but you strain too much too cater to ignorance alot. The Right wing host during the day sound like Hitlers propaganda machine alot. If you want to try to be fair add programming for the other half of the population. Oh, tell Rick Robert's that he needs to get examined as he doesnt seem to understand alot as he says.

Is there no live chat during the morning show? If so, how do I find it? Thanks.

Beverly Sconce

03.03.2022

Thanks Rick for explaining the "rule of law" on why US' hands are tied on helping Ukraine out in certain ways. I was hoping for loopholes with NATO. I did send a Ukrainian care package this morning for refugees. Have good day. God bless! ✝️🇺🇸

Thank you Rick Roberts. For being a no B. S. voice of today's reality. Been listening about 5 years now. Truth is rare nowadays. Eternal blessings to you and Max!! Brian C.

Great to hear the B Teams!

Jane Worthington

09.12.2021

Love the conservative talk on this radio..but please get rid of Nicole! If there is a liberal program on put her there for the news..she is obviously liberal herself! Do not like to hear her report the news!

This radio station is a prime example of what propaganda can do to mainstream and rural America. Nearly everything spewed on these "news" programs are flat out lies and unsubstantiated opinions.

Shirley Browne

26.10.2021

I live in Port Arthur, Texas, and I listen to WBAP daily during the week. I also listen to Kris Krok show in the evening. Your station keeps up to date on the nation's news, and go into detail about the current affairs going on in Texas.

I have listened to WBAP over 40 years. I really love Rick Roberts. He talks to the listeners as if he was sitting across the kitchen table from them. He makes sense of some of the nonsense coming at us. Keep up the good work Rick!