Steht zur Ukraine. Rettet den Frieden in der Welt!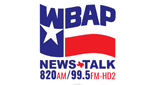 WBAP News Talk 820 AM
WBAP 820 AM is a broadcast radio station in Dallas, Texas, United States, providing News and Talk programming.
Bewertungen von WBAP News Talk 820 AM
First, your banner on this page about Ukraine says it all, pitiful. Second, whoever is filling in for Mark this week needs to do better in researching the homeschool movement. It didn't start with a bunch of parents just pulling kids out because they were bullied. It was started by faithful parents who believed teaching their children was their responsibility and right. They had to fight to do it. It was difficult, yes. And they risked going to jail for doing it but by their efforts it is now legal in all states. And the parents who do this were not super intelligent. They just desire to teach their own kids and are willing to put in the effort. You really got it wrong.

Dan, please try to speak less about yourself...I believe that your young ego obstructs much of what you offer...maybe count how many times you say "I" during one show?

Christopher Dukes

17.11.2022

Dan Bongino is the man. I listen to Dan religiously. Serving the left with common sense that leaves them in awe.

Your show is interesting at times, but you strain too much too cater to ignorance alot. The Right wing host during the day sound like Hitlers propaganda machine alot. If you want to try to be fair add programming for the other half of the population. Oh, tell Rick Robert's that he needs to get examined as he doesnt seem to understand alot as he says.

Is there no live chat during the morning show? If so, how do I find it? Thanks.

Beverly Sconce

03.03.2022

Thanks Rick for explaining the "rule of law" on why US' hands are tied on helping Ukraine out in certain ways. I was hoping for loopholes with NATO. I did send a Ukrainian care package this morning for refugees. Have good day. God bless! ✝️🇺🇸

Thank you Rick Roberts. For being a no B. S. voice of today's reality. Been listening about 5 years now. Truth is rare nowadays. Eternal blessings to you and Max!! Brian C.

Great to hear the B Teams!

Jane Worthington

09.12.2021

Love the conservative talk on this radio..but please get rid of Nicole! If there is a liberal program on put her there for the news..she is obviously liberal herself! Do not like to hear her report the news!

This radio station is a prime example of what propaganda can do to mainstream and rural America. Nearly everything spewed on these "news" programs are flat out lies and unsubstantiated opinions.