Stand with Ukraine. Save peace in the world!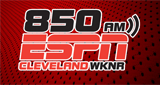 ESPN 850 AM
WKNR is a commercial sports radio station in the United States. It is owned by Good Karma Brands (a radio broadcasting, sports marketing, event planning company) and is licensed to Cleveland, Ohio. This radio station is one of the two Cleveland affiliates for ESPN radio that is why it is also known as ESPN 850 WKNR.
Show more
ESPN 850 AM reviews
thomas smerillo

30.05.2023

Too much browns talk. I was at the 1964 championship. Love the browns. Still I love all my teams.

I enjoy listening to Tony Grossi at 10 am then I change the channel.

Wendell Mullet

24.05.2023

This show is completely intolerable without Rizzo. When he's on vacation, and he's not playing good cop / bad cop with the Goldhammer (who I actually liked as a Who in The Grinch), it really shows that Goldhammer cannot carry this or any show.

What. are you down to 5000 watts again? 4 days now/ cant hear your morning show in Canton/

The show is nothing but a sports gambling infomercial.

ESPN is race baiting, woke trash. Goldhammer is just the worst little $&@?

cindy fagerstrom

02.05.2023

The talk about the Browns 90% of the time, but never interview any Brown's players. Rizz, your tutelage of Erin has been a total failure. How many years with him as your partner and no improvement. Insanity!

Still can't figure out how/why Hammer is still on this show. From rambling weak takes to talking over guests and Rizzo all the time (then pulling the Jewish card), the guy has to go. If it wasn't for Tony, the show would be over in a week. Curious what they'll do when he finally retires.

Goldhammer ruins what could be a good show.

The NFL needs to revise jersey numbers so that Ogbonnia Okoronkwo can wear "00".
Information about the radio
ESPN 850 WKNR started broadcasting in 1926. At that time it was known as WLBV. They experimented with names, changed owners and formats until they finally decided for sports format and their current name. ESPN 850 WKNR covers all kinds of sports, broadcasts some local programming, takes some shows from ESPN Radio network and broadcasts a range of play-by-plays.

It is available on 850 kHz AM frequencies and serves Greater Cleveland. If this radio station is not available in your region you can check its live stream on at this page of our website and listen to ESPN 850 WKNR online. We also encourage you to download our free app and enjoy this and many other radio stations on your mobile device.
Radio contacts