Stand with Ukraine. Save peace in the world!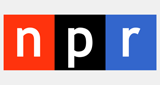 NPR Radio
National Public Radio (NPR) is a privately and publicly funded non-profit membership media organization that serves as a national syndicator to a network of 900 public radio stations in the United States. NPR is an internet radio station from Washington, D.C., United States, providing News, Talk, Culture and Entertainment shows.
Show more
NPR Radio reviews
Craig Anderson

12.11.2022

I've been a supporter for many years. I'm extremely disappointed in the election and inflation coverage and analysis this year. Ron Elving is very out of touch about what is going on around the country. This morning when asked by Scott Simmon why the media should be humble, he did not give any insight as to how "his" analysis was so off and still off about these two issues. People want governance! There will be bipartisan bills passed.

NPR is the best radio station!

The kind of programming and the trained, thinking individuals hosting the shows,

Sebastian Guevara

25.04.2022

I Love NPR!!!!!!! Because They Have Great News Programs!!!!!!! I Love NPR Because They Have Great News Programs!!!!! As Well!!!!!!

Should change the name to FLPR Far Left Propeganda Radio. Socialists promoting socialism. Definitely not "National."

Darrell Jeffery

25.02.2022

NPR Radio is the main source of all my news and information. NPR keeps up to date all over the world news. I highly recommend this network radio to anyone who wants to keep track of important news events.

Анастасия Львовна

03.02.2022

good.

Good

Too lose the light of confusing distractions, the memory of the stories at hand have a memory all their own, a distinct,,, memory recall.

Andallah El Ansary

15.05.2021

Thanks from boujdour, plz more international news
Information about the radio
NPR is a mission-driven, multimedia news organization and radio program producer. It is a network with a strong base of member stations and supporters nationwide. NPR employees are innovators and developers — exploring new ways to serve the public via digital platforms and improved technologies. NPR is also the leading membership and representation organization for public radio.
Radio contacts
| | |
| --- | --- |
| Address: | 1111 North Capitol Street, NE, Washington, DC |
| Site: | www.npr.org |
| Facebook: | @NPR |
| Twitter: | @NPR |