Stand with Ukraine. Save peace in the world!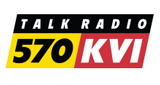 570 KVI
KVI was America's FIRST all-conservative talk radio station. KVI features a line-up of some of the biggest names in conservative talk radio including John Carlson, Glen Beck, Sean Hannity, Mark Levin, Lars Larsen, Michael Savage, & Red Eye Radio.
570 KVI reviews
Trevor Philips

05.05.2023

I tune very day P! listener here of LARZ LARSON SHOW!!!

Susie Frederickson

06.02.2021

So much useful information and informative guestst! Love Sharryl Attkisson's work! And helpful action steps as well! Thank you John Carlson!

Good talk radio!