Stand with Ukraine. Save peace in the world!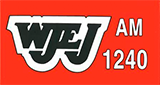 WJEJ 1240 AM
WJEJ 1240 is a broadcast Radio station from Hagerstown, Maryland, United States, providing Fantastic light and easy music from yesterday and today. LIVE, Local DJ's, Local News and Weather, Local Sports, Talk Shows, Big Band Jump, Imagination Theatre, When Radio Was and more!
WJEJ 1240 AM reviews
Great station! Throw back to good times.

Love the wide variety. Last place on earth where announcers give you title, composer, arranger, performer and back stories. One should get college credit just for listening.

How About Playing More Scott Gordon, Body and Soul, love the way he plays the piano!
Radio contacts
https://www.facebook.com/groups/281567149384/