Stand with Ukraine. Save peace in the world!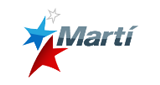 Radio Marti
Radio Televisión Martí difunde informaciones originadas dentro de Cuba y reporta el acontecer noticioso mundial para todos los cubanos.
Radio Marti reviews
Manuel Rodriguez Jimenez

26.05.2023

me gusta

buenos dias

Francis Ariel Gonzalez Colina

02.09.2022

Gracias por informarnos, que Dios los bendiga a todos.

En el matinal de tempranito y de maniana siempre repiten alrrededor de las 7:45 am las misma historia Que ya la dijeron. A las 6:30.

Remis Rafael de Mesa Avila

30.05.2022

Tremenda emisora información adicional sobre la realidad me gusta mucho

Massiel's corner!

02.05.2022

La verdad es que radio Martí deberían cerrarlo. Lo primero es el que escoge los programas lo mando pa cuba a cortar caña igual que a los técnicos que serán técnicos en pesca, carpintería, aviación pero de radio no saben dónde están parados. Extraño es el día en que no hay una extremadamente mala transmisión y a veces nos pasamos la semana escuchando la misma programación de porquería. Quitaron el programa de Gonzales esteba que era exelente. La gente aprendía a conocer al verdadero Martí y a todos los otros patriotas y en todas sus historias había enseñanza y sabiduría. Pero sin embargo dejaron al hijito del principal saboteador con el programa de regeton ese de una hora para atormentar al oyente. Quien quiere escuchar regeton en estos momentos en cuba. La gente lo que necesita es libertad y con sus programas de mierda espantan a la audiencia. Igual quitaron el programa de Pepe forte que era exelente, y otros muchos programas realmente interesantes para dejar una programación que lejos de atraer radio oyentes, los espanta. Ustedes mismos llénense de decoro y no le roben mas el dinero a este gobierno con es emisora que cada día le hace más fácil la vida a los comunistas. Hagan un buen trabajo y cierren la emisora de una vez. Ahora mismo no se escucha nada por ninguna vía online. Que porquería de radio Dios mio

Excelentes programas,felicitaciones.

Joan Mojena Perez

16.04.2022

Exelente emisora para saber la realidad de Cuba

Osiel Castillo

29.03.2022

Me gusta desde pequeño lástima q no se hoy como escucharlo bien aquí en cuba

MANUEL PACHECO

12.03.2022

Radio Marti, excelente emisora, muchos años de estar siguiéndole, ojalá se vuelva con el programa de los exiliados le envíen mensajes de animo a sus familiares en Cuba.