Stand with Ukraine. Save peace in the world!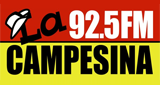 La Campesina 92.5 FM
La Campesina - KMYX is a broadcast radio station in Arvin, California, United States, providing Mexican Grupera, Ranchera and Tejano music to the Bakersfield, California area as a service of the Cesar Chavez Foundation.
Show more
TOP songs on La Campesina 92.5 FM
La Campesina 92.5 FM reviews
Alvarez Aguilar

05.03.2022

Hola buenas noches quisiera saber si tienen algún seguro dental con ustedes ...espero me respondan gracias los escucho desde la montaña california

Veronica Garcia

21.04.2021

Hola que tal mi nombre es veronica Garcia ...queria ver si me pueden dar información de los carros móviles para ayudar con la ciudadanía...me pueden dar información por favor ...quiero ver si puedo hacer ciudadana a mi mama ...Gracias

saludos hasta colimilla manzanillo .. desde aca los escuchamos saludos a los del bbennet en selma

Sergio Amtonio Albores Pemagos

26.04.2018

EXCELENTE LA CAMPESINA, ESTACION DE RADIO FM 92.5 DE ARVIN C.,, SALUDOS PARA MIS SUEGROS RAUL GOMEZ MENDOZA Y LA SRA. MIGUELINA TELLO HERRERA DESDE AQUI SU FAMILIA EN LA CONCORDIA CHIAPAS, MEXICO, TIERRA DE JULION ALVAREZ.. MUCHAS BENDICIONES PARA LA GENTE BUENA Y TRABAJADORA DE ARVIN CA. Y LOS USA.

Al100

Ramon Candelario

23.04.2017

Saludos a todo California desde Cd Guzmán Jalisco Mexico,,,,,,, att el chito de la cruz blanca!!
Information about the radio
Gracias a nuestro fundador, Hace 20 años el señor #CesarE.Chavez fundo esta radio emisora para buscar una forma de llegar a los campesinos y trabajadores del campo. Gracias a su legado, hoy seguimos el mismo ejemplo que nos dejó.
Somos más que una estación de Radio con programas educativos y una programación de la mejor música mexicana regional del momento.
The key to the success of Radio Campesina has been interactive format that combines popular music with calls from listeners, on the street promotional activations as well as live broadcasts from local events. Radio Campesina listeners obtain news and information through innovative community programming, bringing their voices to the air, creating a shared identity and connecting people to the resources available in their markets. Radio Campesina has air forums and debates on key issues such as health, security, education, political and consumer affairs, interviews with experts from different fields of services, plus news and information programs which listeners can participate in through in studio calls. Radio Campesina also programs informative capsules with much interest on key issues all supported by subject matter experts available to report the impact on the lives of listeners.
Radio contacts
STUDIO 661-837-0206