Stand with Ukraine. Save peace in the world!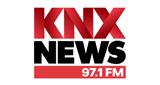 KNX 1070
KNX (1070 AM) is a commercial radio station in Los Angeles, California. It airs an all-news radio format and is owned by Audacy, Inc. KNX is one of the oldest stations in the United States, having received its first broadcasting license, as KGC, in December 1921, in addition to tracing its history to the September 1920 operations of an earlier amateur station.
Show more
KNX 1070 reviews
Gret for Traffic Reports

knx 1070am is great but can't get it on onlineradio app (from tel aviv)

Always reliable and factual, no nonsense local and National news. And constant traffic updates. Thanks KNX!

I have listened to KNX all my live they were conservative now they are a liberal echo chamber, they fired they local talent like business reporter Frank Lotek and do NO sports reporting at all no I filed a complaint with the FCC because they are not identify their station on the AM side but use the FM sides frequency of 97.1 that's not going to help me if I listen on the AM side

Robert Fajardo

20.01.2023

KNX morning traffic reports sound horrible.

Amanda Versluys

07.01.2023

I've listened to KNX most of my adult life, but they've just gone too far with the Jan 6 propaganda specials and their in studio reporters blatantly denouncing Trump every chance they get. I'd be a different story if they did George Flyod/BLM/Antifa riotting specials and highlighted Biden's blunders, but KNX has their marching orders like the rest of them and must decide for us what we need to hear. I thought KNX was different.

Station is not reliable anymore!

Jonathan Blake

07.11.2022

KNX is my go to station too. Like millions of other Angeleno's I listen to you every morning while getting dressed and breakfast. I listen on my Apple 13pro I-phone using Audacy. It is the worst app on my phone. I have T-mobile on 5G but your station cuts in an out all morning. And even when I get an > sign to connect live, I get a delay of 4-5 seconds before it starts??? And you have so many choices all jammed together. Previous broadcasts, podcasts, live, other stations, etc. I simply want just one button that says live and stay connected! Please fix the problem!

Amelia Medrano

24.10.2022

Thank you for your persistence in pursuing Karen Bass to speak of her USC School of Social Work application. As a graduate of USC School of Social Work it is imperative that as Social Workers we must be true and honest to the service of individuals, groups and society. The National Association of Social Workers' Code of Ethics outlines professional and personal conduct and outlines standard of behavior: Purpose of the NASW Code of Ethics states "Professional ethics are at the core of social work. The profession has an obligation to articulate its basic values, ethical principles, and ethical standards. The NASW Code of Ethics sets forth these values, principles, and standards to guide social workers' conduct. The Code is relevant to all social workers and social work students, regardless of their professional functions, the settings in which they work, or the populations they serve"

George Ritchie

13.10.2022

I love KNX and miss it. Thankfully, i can even hear it here in Phoenix at night on the car radio. I'm starting with the stream. I understand why you think you have to stream local or national advertisements, but I definitely prefer hearing the real ones from LA. Honestly, they still apply, as I'm frequently back and have business needs. Maybe, consider having the 'authentic' stream. I listen to East Coast stations and European stations and there I get the 'authentic' stream. I definitely prefer that for the full experience.
Information about the radio
KNX broadcasts traffic reports on the freeways in the Greater Los Angeles Area every ten minutes on the five's along with weather reports twenty-four hours a day, seven days a week, while other radio stations broadcast traffic reports weekday mornings and evenings.
Radio contacts
News Tips: (323) 900-2070
Traffic Tips: (323) 467-1070