Stand with Ukraine. Save peace in the world!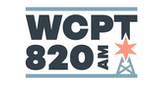 WCPT 820 Chicago's Progressive Talk
WCPT 820 Chicago's Progressive Talk is one of the last independently owned radio stations in the country. We provide an alternative to the status quo of talk radio and offer our advertisers an effective, results oriented product.
WCPT 820 Chicago's Progressive Talk reviews
Love Step, she's not for the low information, factually challenged, conspiracy driven and ignorant Trump supporters.

Christopher A Aumiller

14.04.2023

Stephanie Miller I will not be listening to you anymore. I think it's a disgrace that you continue to attack our former president..

When my stomach is upset & I need to make myself throw up, instead of sticking my fingers down my throat or drinking Ipecac, I turn on WCPT! It doesn't matter what time of the day or night. It ALWAYS does the trick! I need to make sure that I'm over the toilet, of course. After I've emptied my stomach, I take a BIG STINKY Joan Esposito, followed by a little Jim (a caller with the voice like a dying, growling dog @ 5:30pm, since he's got nothing better to do) & flush it all right down. I'm good to go after that!

Bernard Escamilla

24.02.2023

Inform radio!

Linda Washington

22.01.2023

Listen to daily very informative and make you think.

I believe Linsey Graham's statement about abortion is merely a ploy by the repubs in an attempt to show the people of this country it could be worse. They're now publicly coming out against Graham's statement as if they are against abortion. Mixed messages bring confusion and what else are they other than a party of confusion. I believe nothing coming out of the Republican Party

💫 millions of 🌟🌟🌟 💫

A gift to Chicago and area. So many thought provoking hosts and intelligent radio listeners. We need many more WCPT like stations to counter the right wing propaganda machine.

Life expanding

DimitarTheVyond2006

10.04.2021

American Friends Is Happy!
Radio contacts
https://www.instagram.com/wcpt820/