Stand with Ukraine. Save peace in the world!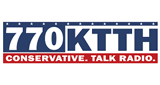 AM 770 KTTH
KTTH AM 770 is the Northwest's home for Michael Medved, David Boze, Ben Shapiro, Rush Limbaugh and Dave Ramsey. This all-star line-up of remarkable, opinionated, story-tellers entertains, informs and enlightens every day. The big stories. The important issues. The best interviews. Count on KTTH AM 770 to serve up a daily dose of debate with the titans of talk radio.
On the air AM 770 KTTH
| | |
| --- | --- |
| Live | ADWTAG3 - |
| 04:35 | Smart, fast-paced political and cultural insights from a right-leaning perspective. - Guy Benson |
| 04:21 | ADWTAG3 - |
AM 770 KTTH playlist
AM 770 KTTH reviews
Thomas Erickson

13.12.2022

Hey.brian ,what happened at am 640?

@Doug Walsh, In light of the Catholic Church's history on Pedophilia, hidden torture chambers and false doctrines such as purgatory.....your statement is ludicrous.

Dear Mr. Walsh, Mr. Suits was actually going easy on the current Pope who is a known far left radical Marxist tool.

On this morning's program Mr Suits referred to the pope as an S.O.B. It may come as a surprise to Mr. Suits that a number of conservatives listening to his program are actually practicing Catholics who believe that the Church's teaching on morality is a cornerstone of the social well being of the United States of America. Unfortunately anti-Catholicism has long roots in both conservative-protestant, atheist and radical left thought. Perhaps Mr. Suit should do a segment on his contempt of Catholicism so we can expand our understanding of his brand of politics.

BOY FROM PERNAMBUCO ?

30.04.2021

Hello, Anitta has just released a new song "Girl From Rio" and I would love for you to play. Thanks!!