Stand with Ukraine. Save peace in the world!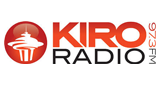 KIRO Radio 97.3 FM
KIRO Radio tells you what's happening and why. All day we deliver the news and connect the dots through the eyes of KIRO's thinkers and talkers. Through breaking news and stories that range from the meaningful to the offbeat, we bring you what's most interesting right now.KIRO also is home to the Seattle Seahawks and the Seattle Sounders FC. Weekends on KIRO Radio reflect how you like to live. It's an eclectic collection of trends, tips and tales about what we do when we have the time: cooking, gardening, music, movies and venturing off the beaten path. Learn, laugh and relax with KIRO Radio on the weekends.
On the air KIRO Radio 97.3 FM
| | |
| --- | --- |
| Live | UFOs, strange occurrences, life after death and other unexplained phenomena. - Coast to Coast AM |
| 02:06 | Northwest. News. - KIRO Newsradio 97.3 FM |
| 02:05 | ADWTAG1 - |
KIRO Radio 97.3 FM playlist
TOP songs on KIRO Radio 97.3 FM
KIRO Radio 97.3 FM reviews
vanesssa bell is 180 off base...it would appear that blm is in fact racist...but there is no doubt that they are scam artists...there is no doubt they are maxists...just go to their web site read for your self....the only thing they are helping with is padding their own bank accounts...you sound like the exact type of voter that voted for the leaders that have put the city in the sorry state of affairs today...no improvement until you and your ilk wake up.

This station has the most racist commentators ever!!! The white guy who always says he's not racist, and Calls the Black Lives Matter group a racist group is full of shit!!! You guys suck and shouldn't be allowed to speak all this racist bullshit!!