Stand with Ukraine. Save peace in the world!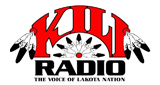 KILI Radio
KILI Radio - KILI is a broadcast radio station in Porcupine, South Dakota, United States, providing Community News, Talk and Entertainment as "the very first Indian-controlled, Indian-owned and Indian-run radio station in the U.S.," according to activist Russell Means, a strong proponent of the Lakota culture.
KILI Radio reviews
Steven Pietrzak

25.04.2023

Love your programming and listen as much as I can.

Listening in from Great Britain! Watched Women Of The White Buffalo and discovered this radio station on there . Love the content ,chat from the presnters and some jolly good songs played. I wish you are love ,peace and harmony with your beautiful lives all the way from good old England . God Bless You All out there.

Sierra & Daniel mencucci

17.06.2022

Love from Vermont

Daley Valentine

21.04.2022

i love this radio!! Listening from duluth MN it so sad how we have treated Native American and still do. i miss russell means. If you want great information and want to read a good book read where the white man fear to tread by Russell Means. Is a very interesting book. so much great history!!

Used to listen every morning! Brings back good memories. Listening from Flintstone Georgia

Love the variety of music, listening from the Pueblo Of Laguna, in New Mexico

edward vanvelthoven

17.02.2022

Hello from Uruguay, greetings to all the tribes, much respect and honor to all the Lakota Sioux!!!

Rosalyn Torrez

18.12.2021

Great staying love the DJ !!

KILI is the best, nothing else is like it. It was my privilege to stay on Pine Ridge one summer and help with wild fires. I learned and grew and changed thanks to my time with the people there. Thank you KILI for all the years of great radio.

Rachel Michaels

21.11.2021

Worked with AIM in Denver late 90s. Delivered a truck loaded with clothes to a destination near Pine Ridge, walked up the snow covered hill of Wounded Knee during a Dec 29 tribute with a Lakota elder, carried him and the sacred drum and eagle staff to a Columbus Day protest in Pueblo and attended a local pow wow in Porcupine and these and all the other memories are strong and solid. I also remember staying in a trailer that was close to Kili Radio and across the street one time I was there. I am surprised your songlist is what it is listening now but I love it just the same as I am open to both worlds and cultures as it just seems logical to be that way. Mitakuya Oyacin!
Radio contacts
Fax - (605) 867 5634