Stand with Ukraine. Save peace in the world!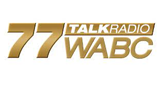 77 WABC Radio
77 WABC - WABC is a broadcast radio station in New York City, New York, United States, providing News and Talk programs.
77 WABC Radio reviews
Hello WABC my name is nathyn mingus i am BOB GRANT FIRST GRANDSON Just thought I would say something.thanks

I enjoy listening to curtis sliwa and all the other radio personalities on wabc. Cat man brought all this talent to the station and made it awesome. Bernie is going to be ok.

Sid should stop with the derogatory comments directed about Mark Levin and Greg Kelly.

Brian Hagopian

13.04.2023

77 WABC radio should not be supporting President Zelensky, of the Ukraine, who deliberately, irritated the Russians, ,,,,to cause the Russians to invade the Ukraine and cause 5 million Ukrainians to leave the Ukraine, , in great pain, ...and cause the death of thousands of Russians and Ukrainians. Zelensky even banned the speaking of Russian in the Ukraine. Zelensky is racist.

Sherry Sotnikoff

06.03.2023

Regarding the Ernie Anastos program over the weekend. ...... I'm sorry, but it's horrible. It's too forced, it doesn't fit in, it's too old for your audience, I found it annoying. Fake cheeriness. You can find something better.

Patricia Scully

11.10.2022

WE LOVE GREG KELLY...AND CURTIS SLIWA...Lydia is the Best...We Miss Bernie,but Love SID...

I Appreciate Rudy staying strong and Greg doing his best to stay positive on the important matters . Curtis is entertaining but gets annoying with the louder volume , should talk more normal , Weiner displays some normalcy but has a way to go before he could be accepted as a positive. Castimatides and Lidia are down to earth and bring up great issues. James Golden is another great voice and to the point on all issues . Most all of the people are fair and balanced and lead the pack

Curtis Sliwa is too much rant and should quit with criticising Morano. Morano on the other side doesn't always has interesting subjects. WABC should leave the night show to other presenters

Very good radio...

James golden what incompetence can't listen to him at all.