Stand with Ukraine. Save peace in the world!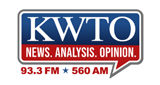 News Talk 560
KWTO 93.3 FM 560 AM is a radio station located in Springfield, Missouri, United States, providing Sports Talk, News and Weather programs.
News Talk 560 reviews
You asked why many people do not vote and I hope that you realize that, with crooked, corrupt and fraudulent elections taking place on a regular basis, there needs to be some REAL transparency in EVERY precinct across the Country. First things first, EVERY ballot transaction needs to be on camera, if not, those ballots should not be counted. If ballots appear illegally, they MUST be disqualified. If there is not an R and a D signature on each and every ballot, meaning that both have reviewed the ballot and they agree that the ballot should be counted, any ballot missing either one or both signatures, will be disqualified, as well. Only those qualified to vote will have their votes legally tallied. Because about half of the Country are democrats (active cheaters), there MUST be safeguards in place to protect the process from every bit of cheating. If someone (R or D) is caught cheating, they should go to jail and be punished to the fullest extent of the law! Until we get serious about truly safe and fair elections, you will continue to see the low participation rates that you are seeing now. Do you really want safe and fair elections? I guess we will find out by your actions, going forward.

Great to hear you Curtis . Happy Vets Day to all my fellow veterans .

Never miss it

SERGEANT CHOPPER

19.05.2021

I miss the days under POTUS TRUMP, when America was "feared, respected, growing with optimism, had a newly erected border, and forty-eight "other" equally important items, (including an exponentially growing military defense and the new United States Space Command! TRUMP 2024------ BEFORE IT'S TOO LATE!