Stand with Ukraine. Save peace in the world!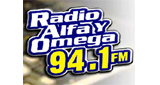 Radio Alfa Y Omega
KBKY 94.1 FM is a radio station broadcasting a Spanish religious format to the Merced, California, USA area.
Show more
Radio Alfa Y Omega reviews
Patito Sanchez

08.09.2023

Dios les bendiga .
Information about the radio
Esta radio online no pertenece a ninguna iglesia solamente pertenese a Nuestro Señor Jesucristo, puesto que lleva su nombre "ALFA Y OMEGA". En Apocalipsis 1:8 nos dice "Yo soy el Alfa y la Omega, Principio y Fin dice el Señor, el que és y que era y que ha de venir, EL TODO PODEROSO.


Tambien es con el fin de glorificar el Santo Nombre de Nuestro Señor Jesucristo.. Esperamos que por este medio la palabra de Dios sea escuchada en todo el mundo y podamos llegar a lugares donde ni nosotros ni la señal via radio podemos llegar para que no haya fronteras donde Alfa y Omega pueda Señorear y pueda ser escuchado en cualquier parte del mundo para que así mas almas que fueron escojidas desde antes de la creación sean salvas y no se pierdan. Queremos alcanzar el mundo entero para el evangelio de Jesucristo y que no haya barreras donde la palabra de Nuestro Senor sea escuchada así mismo esperamos que se gozen con todas las programaciones.
Radio contacts
Request Line: 209-723-2020