Stand with Ukraine. Save peace in the world!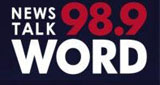 106.3 WORD
106.3 WORD, Upstate South Carolina's Home for Stimulating Talk and Breaking News.
106.3 WORD reviews
I love the Tara and the Charlie shows!

The station has switched to 98.9 now.

No clue who is on currently. Listening at 2.42 pm. She is hilarious and totally on point. Love you!! Will begin steaming. Go girl.

Kevin Strickland

18.08.2021

I'm really upset with you. I called into the Charlie James show yesterday and got cut off. He didn't explain my question correctly. Made me think that you'll are suppressing the truth just like CNN.

The new program on word 12 to 3 is a incoherent person who repeats their self three or four times and can not carry a subject long enough to make appoint about the current subject. It was bad to loose Rush but this is now ludacris . so i must say good by till better days!

This once used to be an outstanding station and was listened to be all people. If people want to know where TRUE Racism is turn here.

You have started having an echo to everything except commercials.