Stand with Ukraine. Save peace in the world!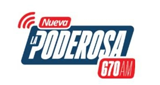 La Poderosa 670 AM
WWFE - La Poderosa 670 AM is a commercial radio station in Miami, Florida, broadcasting to the Miami-Fort Lauderdale area. WWFE's format is Spanish, with an emphasis on Cuban news and music.
La Poderosa 670 AM reviews
Muy acertada la elección de Hilda Ravilero para sustituir a Calderón, pues es una persona que se prepara muy bien sobre el tema que abordará en el programa independientemente además de su formación cultural.

Roberto Lozano

11.06.2023

LA PODEROSA una emisora CONSERVADORA necesaria en un mar de desinformacion politica y opiniones confundidas, Es un alivio! Sus comentaristas en su mayoría se ocupan de informarse y conocer los eventos diarios de interes popular. UN OASIS en medio de un pantano politico , GRACIAS amigos periodistas y comentaristas. R LOZANO

Jesantoni Hevileon

23.05.2023

Siempre están llorando y culpando a otros. Eduardo Alemán ( garganta de lata) y el indio natural chileno con apellidos araon ( Condorito)... Los dos la viva estampa de las revistas alegres de Colombia , pero yo los escucho para reír. Huyeron de sus países para aquí en los USA fingir de valientes patriotas jajajaja

Me gusta su nueva programación.

Ojala que El Diablo Rojo no planeara comprar esa emisora tambien.

Lázaro Boubuo naranjo.

25.01.2023

Desde España,Arturo Garnica torres..

Excellent programa informative.

Beatriz Bermudez

22.12.2022

Programación muy amena, educativa, para todos los gustos

Me gusta

Roberto Lozano

11.09.2022

NINOSKA PEREZ CASTELLON envié un mensaje sobre las medidas del Gobierno de Biden , mas dinero en la calle mas INFLACION , la solucions es TRabaJO y menos WELFARE y ayuda .Algo tiene que cambiar. El sistema electoral debe poner a la disposición del electorado una BREVE Biografía y Curriculum Vitae para INSTRUIR a la población en sus pamfletos y propaganda.