Stand with Ukraine. Save peace in the world!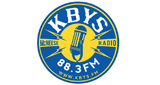 KBYS 88.3 FM
KBYS is unique in today's radio environment; we are truly a community radio station and our focus is on McNeese State University and the Lake Area. KBYS entertains and informs with music from the 50's, 60's, and beyond, school and community events. KBYS supports other non-profit organizations with announcements of their activities. The station is powered by a dedicated staff of area volunteers who come from all walks of life, with the common goal of improving the quality of life for our listeners. In order to continue quality programming, KBYS is dependent upon listener contributions and sponsorship from local businesses.
Show more
TOP songs on KBYS 88.3 FM
KBYS 88.3 FM reviews
evan g chapman

10.07.2022

walker slays the house down boots on sundays 😩😍

Barbara Doucet Fontenot

19.09.2021

I love all the shows at KBYS. Jules is the best to listen to on my way home, and my Sundays are never complete without Walker at breakfast! The best station in AMERICA!

Robin Byler-Hebert

25.07.2020

WHEN I HAVE TO WORK ON SATURDAY, DAVID "BLOCK" VINCENT WITH CLASSIC COUNTRY HITS FROM OUR COLLEGE YEARS!!! IS THE BEST!

Listen every day in my car at work at home...only issue sometimes Station is not clear static creeps in..other than that I am a loyal oldies fan...keep up the good work!!!
Information about the radio
KBYS Radio at McNeese State University is committed to creating an educational and cultural hub using all available forms of media and venues for the benefit of the local region and populations well beyond KBYS's terrestrial radio signal boundaries.

Vision Statement of KBYS Radio

The mission of KBYS 88.3 FM is to broadcast quality radio programming that:

• Informs
• Educates
• Entertains
• Involves
• And inspires the people living in SW Louisiana . . . and beyond!

This Vision Statement means that KBYS's programming informs its listeners about McNeese State University, Lake Charles and the surrounding region, so that listeners may become more knowledgeable about, and more engaged with activities that benefit them personally, and that enhance life for all in the community, all the while keeping McNeese State University in the forefront.

The phrase ". . . and beyond!" means that KBYS's signal currently reaches portions of the neighboring communities of Sulphur, Iowa, DeQuincy, as well as listeners in Calcasieu and Cameron Parishes.

The Mission and Vision Statement of KBYS 88.3 FM supports the Mission Statement of McNeese State University which is "Excellence with a Personal Touch."
Radio contacts