Stand with Ukraine. Save peace in the world!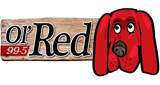 KUTT 99.5 FM
KUTT 99.5 FM is Country music radio station that serves Southeast Nebraska and Northeast Kansas, USA. Licenced to Flood Communications of Beatrice, LLC, and its transmitter located in Harbine, NE.
Show more
TOP songs on KUTT 99.5 FM
KUTT 99.5 FM reviews
Excellent music, while I work I listen to this radio station, you are a great company

Vickie Roland-Troxel

28.09.2022

great music. Now, how about some Bryan Martin ?

Drive at Five host.... funny!
Information about the radio
Along with best Country music, KUTT broadcast includes:
• local news
• ABC news
• sports news
• weather forecast
• church service
• auctions
• healthcare

Ol' Red's history begins back in 1984 when Rick Siebert bought small unknown radio station (KGMT 1310 AM) and turned it into the Powerhouse it is today. Over the years, KUTT 99.5 became "Today's Best Country" station with thousands of listeners within Central America.
Ol' Red is multiple award-winning radio station, which owns Nebraska Broadcaster Silver Awards in Social and Public Service, Service for Children, and Best Commercial.
Sunday programming schedule is represented mostly by church services (Grace Lutheran, American Lutheran, United Methodist, Faith Lutheran, First Baptist), even obituaries can be provided by KUTT radio. Ol' Red listeners community takes an active part in live of the radio station and can define its development direction.
Radio contacts
Fax: 402-228-3704