Stand with Ukraine. Save peace in the world!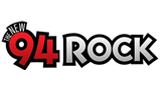 The NEW 94 Rock
The NEW 94 Rock (KNEN) (ex. 94.7 News Channel Nebraska) - is a radio station broadcasting a classic rock format. Licensed to Norfolk, Nebraska.
TOP songs on The NEW 94 Rock
The NEW 94 Rock reviews
Keep it RockN💯🎸. Thanks ya doing great!!

You know what be great? If you deejays quit talking the beginning of the songs and also cutting songs short. We diehards like to hear the the whole song and have fun. Really, this strategy really sucks.

great rock and roll

Iris Doolittle

11.04.2019

Yay to Clint over the noon hour...great rock!!! Keep it comin!!!
Radio contacts
fax (402) 371-0050