Stand with Ukraine. Save peace in the world!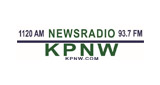 KPNW Newsradio 1120 AM
KPNW (1120 kHz) is an AM radio station broadcasting a news/talk format. Licensed to Eugene, Oregon, United States, the station serves the Eugene-Springfield area, and calls itself "Newsradio 1120 and 93.7". The station is owned by Bicoastal Media Licenses V, LLC and features a local morning show on weekdays followed by nationally syndicated programs from Premiere Networks, Westwood One and other networks.[1][2] KPNW carries Fox News at the beginning of each hour. The station, along with Portland's KOPB-FM, is Oregon's primary entry point for the Emergency Alert System.
KPNW Newsradio 1120 AM reviews