Stand with Ukraine. Save peace in the world!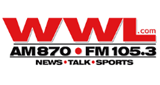 WWL 870 AM
WWL is a news/talk/sports radio station in New Orleans, Louisiana.
Show more
WWL 870 AM reviews
I refuse to listen to commercials all day. I will find out about the selections on the Saints Farcebook page.

courtney is hateful

Stop with all the commercials already! Can't enjoy The Point After with sooo many interruptions. Who Dat Nation wanna hear game breakdown & fans calling in !

Listening to the Saints broadcast for first time in decades. Last time was listening to Danny Abramowitz... King Edward Cigar Time! Who needs cable?!!!

yeah, this station SUCKS!

robert ducasse

04.11.2022

Write the FCC and complain.

yes, to many comml's, plus after the comml, plus when the comml is over the regular program is in the middle os a sentence.

Good lord way way way too many commercials.

I quit listening to Audacy because of the number of commercials. This is better, but there are still too many commercials.

Most sites play their commercials around the game. THIS one plays the game around their COMMERCIALS. Miss so much of the game it's hard to get any kind of rhythm. If this the absolute only way to listen to the game then ok, but otherwise, it's horrible.
Information about the radio
The "Big 870" reaches large parts of the Gulf Coast in the daytime, and much of the United States at night. It is regularly heard east of the Rockies every night, and sometimes is heard as far west as California. In April 2006, WWL began a simulcast on WWL-FM 105.3 MHz in the New Orleans area. WWL is the flagship of the New Orleans Saints Radio Network, is an affiliate of the CBS Radio Network, and is owned by Entercom Communications.
Radio contacts
Fax Line: 504.593.1850