Stand with Ukraine. Save peace in the world!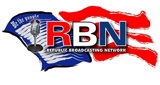 Republic Broadcasting Network
RBN - Republic Broadcasting Network is an internet radio station from Round Rock, TX, United States, providing News, Talk, and Information.
Republic Broadcasting Network reviews
I just discovered that I have been banned from calling in. So that's the new RBN, not the RBN of John Stadtmiller, Deanna Spingola or Michael Collins Piper. I'm currently listening to Jim Fetzer, who fully supports Vladmir Putin, the world statesman who is single-handedly taking on the globalists and NATO, especially the US. Russia good/US bad. A quote from Putin: "We need not only address the issues at hand, but also take the long view over the horizon to try to expand human capability to control the smallest object and put the most complex physical processes at the service of progress." Putin is all in with the 4th Industrial Revolution, Klaus and the WEF.

I am a fan of semitism so I will listen more

Overall good shows, but you will notice there is quite a bit of repeating subjects. Some shows have too much advertising time. There is even a 1 hour advertising show with the person from Kettle Moraine and Sierra Madre Precious Metals. This show is presented as a regular show, in reality it's advertising to sell gold or other items. Be aware that some shows have antisemitism.