Stand with Ukraine. Save peace in the world!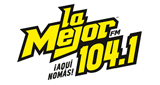 La Mejor 104.1
La Mejor 104.1 - la estación grupera con música regional mexicano líder en la región.
La Mejor 104.1 reviews
Ricardo Garcia

12.08.2023

Saludos Viejon y Hermosa mujeres de mi Baja California

Vicentio Garcia

13.02.2022

Saludos desde phoenix Arizona ... Saludos a Culiacán

Vesnustiano Carranza

24.02.2021

Un saludo para la gente del Sinaloa que anda en denver colorado echándole ganas el Chuy y el chico

Cual es la aplicación para descargarlo

Pilar Angel Sicairos Jimenez

11.06.2019

La escucho desde que era niño. Bonitos recuerdos de mi infancia en Durango. Saludos desde la Baja. Mexico.

Saludos desde Kentucky usa

Siempre bien informado con Viva La Noticia.... Saludos.

Christian Piña Felix

24.10.2018

cual es el numero para marca?

Fernando Lizarraga Acosta

27.06.2018

saludos a todos en viva la noticia,los estoy escuchando saboreandome un delicioso cafe acompañado de su respectivo pan de vieja,les deseo un muy buen dia.

hola felipe un saludo afectuoso para todos los radio escuchas,que programaso,excelente de verdad,que tengan un bonito dia.atte fernando lizarraga acosta.
Radio contacts
http://gpmtuportal.com/la-mejor-104/