Stand with Ukraine. Save peace in the world!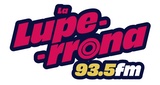 La Mejor
La Mejor FM es el formato popular de MVS Radio siendo la cadena de radio grupera más importante de Latinoamérica, que hoy en día ha demostrado su efectividad al colocarse en los primeros lugares de popularidad,transmitiendo sólo éxitos de los principales ritmos populares como: banda, norteño, duranguense, balada grupera, así como lo más romántico en este género, y claro, un toque de música ranchera. La Mejor FM, por ello sólo programa la música que el pueblo quiere escuchar.
La Mejor reviews
Maria Elizabeth Espiritu Gomez

19.06.2020

buenos dias cheli saludos

Hola

Linda Rocio Moreno Villanueva

15.03.2018

Cheli eres la mejor!!!!

Carlos Grijalva

16.02.2018

Excelente simplemente!!!!
Radio contacts
https://www.youtube.com/channel/UCUXG8rdtvn0mkn_oM6ZhCJw
https://www.instagram.com/lamejoroficial/