Stand with Ukraine. Save peace in the world!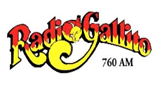 Radio Gallito
Radio Gallito 760 AM Trasmitiendo Desde Zapopan Jalisco México
Show more
Radio Gallito reviews
Marializ Gonzalez Lomeli

27.05.2023

Quisiera que pusieran las mañanitaa para mi mami que hoy cumple años por favor su nombre es alicia lomeli de parte de sus hijosss

Letiicia Zamarripa

21.04.2023

Chuy eres una persona muy especial que Dios te bendiga a ti también a tu familia y a la familia radioescuchas y los que hacen posible esto

Hola buen día podría mandar un saludo desde woodburn oregon para mi esposa erika calvillo que siempre los escuchamos de santos robles muchas gracias.

Alfredo Pulido

12.03.2023

Saludos para todo el equipo de RADIO GALLITO 760 AM . desde san diego ca

Alberto Montes

25.02.2023

Buenas tardes los escucho en el bellísimo estado de Morelos en el municipio de axochiapan

Sandra Ramirez

20.02.2023

Podrían mandarle un saludo a mi abuelita Teresa Gutiérrez Morales de parte de su nieta Lupita.!

Hola ! Buenos días , Un saludo para miguel vargas y Alfredo vargas , del refugio Jalisco municipio de tizapan el alto Jalisco

Oscar Birrueta

27.01.2023

Un saludo para María Fernanda y Su abuelita Celia

Saludos a el mechon muy buena rola saludos

Hola, podrían felicitar a mi abuelo Raul santos serranos, hoy es su cumpleaños y esta escuchándo radio gallito en este momento, junto con las mañanitas por favor
Information about the radio
Programas:

• TE LLEVAMOS GALLO
LUNES A VIERNES, 07:00 - 09:00 H

De lunes a viernes te llevamos gallo… llámanos a cabina, pásanos el teléfono de tu media naranja, nosotros le marcamos y te la ponemos en la línea, al aire y en vivo por Radio Gallito para que tú le digas lo que quieras, la felicites, le digas que la amas o te le declares al aire. Además le llevamos gallo, porque le ponemos la canción que tú quieras.

• Duetos famosos
LUNES A VIERNES, 13:00 - 14:00 H

Los éxitos de la música mexicana con los mejores duetos de ayer y hoy, como son: Dueto Los Centenarios, Lucha y Jorge, Las Jilguerillas, Los Dos Oros o Las Hnas. Huerta. En un espacio de 1 hora con Octavio Flores.

• AMANECER CAMPIRANO
Lunes a Domingo, 06:00 - 07:00 H

Para despertar con lo mejor de los máximos exponentes de la música ranchera.
Radio contacts
Teléfeno de cabina:
36 15 28 82