Stand with Ukraine. Save peace in the world!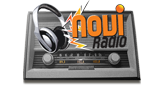 Novi Radio
Prva komercijalna županijska radio postaja Tim mladih, perspektivnih i kreativnih ljudi, s jasnom vizijom od samog početka nastoji zadovoljiti želje slušatelja svih generacija neovisno o dobi, spolu i stupnju obrazovanja. Kvalitetna glazba, pomno birana od strane iskusnih glazbenih urednika, okosnica je našeg programa.
Show more
Novi Radio reviews
odlicni ste izborom slušam vas u Berlinu

Pozdrav. Moze li od Jebotona Dylan Dog?

Lipi van pozdrav od Turanjca iz izoliranog Trbovlja slušan vas svaki dan ----Berto

Top

Pošto nemogu staviti video evo upute.:OSTANI DOMA NARODE

IvAna MarAsovic

28.11.2019

Najbolja radio postaja u županiji😊

Po meni najbolja radio postaja u Zadru.
Information about the radio
Sam program bogat je i raznolik. Obuhvaća zabavne i informativne emisije prilagođene željama slušatelja.
Politika, gospodarstvo, sport, kultura, glazba, film - budite u toku, saznajte prvi što se događa u našoj okolici i svijetu, svakog punog sata u Vijestima Novog radija.
Novi radio uvijek u fokusu zbivanja.
Slušajte nas, zovite nas, komentirajte, sugerirajte!
Tu smo za Vas i zbog Vas – VAŠ NOVI RADIO!
Radio contacts
Fax: +385(0)23 30 28 47
Redakcija:
TEL: +385(0)23 30 28 45
FAX: +385(0)23 30 28 50
E-MAIL: [email protected]
https://www.instagram.com/noviradio_zadar/
https://www.youtube.com/channel/UC3Bei8DyyyD5p1CqoFu4BJA