Stand with Ukraine. Save peace in the world!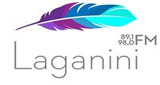 Laganini FM
Laganini FM (Zagreb) je zagrebačka radijska postaja koja broji 15 godina života u radijskim prijemnicima hrvatske metropole. Počeli smo skromno, hitom "Celebration" Kool & the Ganga koji je rasplesao zvučnike na tadašnjem Plavom 9, a danas smo urbana radijska postaja koja u potpunosti prati ritam svoga grada i svakoga dana mu donosi najaktualnije novosti, pregršt samo dobre glazbe i najbolje voditelje u hrvatskom eteru.
Laganini FM reviews
Ajmeeee.....tko to mjauče i doslovce već drugi puta danas devastira savršenu pjesmu Prljavaca??????

Super mjuza!

Čista petica,bez premca...

Komentari voditeljice u svezi blagdana Svih svetih su dno dna. O nepoznavanju gramatike da ne govorimo.

Najbolji radio!

Guess! Bravo, Mašala....Keep on movin..

Tommy boy Crazy horse

02.05.2022

Ne znate, ne želite naučiti i ismijavate one koji vas žele poučiti.

Goran Kauzlarić

22.04.2022

Upravo tekuća emisija - fešta jednoumlja. Ako se preispituje zakonitost ukidanja mjere roditelj odgajatelj, zašto se ne ispituje i zakonitost donošenja same mjere.

Poštovani, nije mi jasno kako vaša uprava tolerira toliko nepoznavanje HR jezika koje pokazuje gospođica koja čita vijesti (nju čujem svako malo) ??? Toliko krivog naglaska ..kao da nije iz HR ... i to još dođe u eter , svaka čast i njoj i uredniku i vlasnicima !!!

Ful ste dosadni s tom temom o pušenju od 8 sati pričate o tome, i slažem se s jednim komentarom prije , slušati prepucavanje i doživjaje jednog glumca i i nešto mlađe voditeljice, također neki dan priča o odgojiu djece ?! ( mislim da ni jedno od njih nema djecu ) ...također imate mainstream stajališta i ne razlikujete se ni po čemu od ostalih ono "prosječnih postaja". Pohvala nekad na dobrom odabiru muzike.
Radio contacts
https://www.youtube.com/channel/UCyfca_lSM2f0_ObAdDXGZ-Q