Stand with Ukraine. Save peace in the world!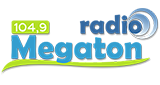 Radio Megaton
Radio Megaton programske sadržaje objavljuje svakodnevno od 0 do 24 sata, sedam dana u tjednu, tijekom cijele godine. Govorni dio programa emitira se od 6 do 21 sat, dok noćni dio programa čini glazba, većinom domaće produkcije. Dnevni program Radija Megaton podijeljen je na: jutarnji, prijepodnevni, poslijepodnevni i večernji program.
Show more
Radio Megaton reviews
Marko Cole Nikolic

25.10.2023

super radio i super voditelji najbolji je Marlon I čista petica

ČISTA 5-ICA ZA MARLONA I EMISIJU DANAS..UŽIVALI SMO..POZDRAV IZ WURZBURGA

10-ka🔝💥❤️

Tomislav Lančić

28.08.2021

Najbolji radio,,pozdrav iz Ceske od Nevenke i Tomislava

Miodrag Petričević

28.07.2021

super

Marija Gašparić

09.05.2021

Vrh

NAJBOLJI

5

Tomislav Skrovec

25.01.2021

moze pjesma Prode ljeto trideseto

pozdrav z Prahy
Information about the radio
Govorni dio programa može se svrstati na:

informativni program

edukativni program

zabavno - glazbeni program.

Informativni program, stvaran u vlastitoj produkciji, najznačajniji je dio programa Radija Megaton koji obuhvaća dnevni pregled događanja u političkom, gospodarskom, kulturnom, sportskom, te u ostalim segmentima življenja stanovnika našeg koncesijskog područja.
Edukativni program uglavnom čine emisije koje kroz dnevne društveno – političke teme, te uz gostovanje relevantnih sugovornika, obrađuju određenu problematiku, nudeći različita gledišta, ali i rješenja problema.

Kroz zabavno – glazbeni program Radija Megaton cijelim nizom specijaliziranih autorskih emisija slušateljstvo biva upoznato o najnovijem glazbenom stvaralaštvu, uglavnom hrvatskih glazbenika. Ujedno, kreiraju se domaće i strane glazbene ljestvice, stvaraju reportaže sa zabavno - glazbenom tematikom, te biraju glazbeni brojevi.
Radio contacts