Stand with Ukraine. Save peace in the world!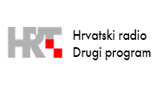 HRT - HR2
Dnevni radijski show emitiran u vrijeme odlaska s posla i boravka u automobilima. Donosi ležernu post-radnu atmosferu s mnoštvom kratkih priloga, informacijama iz prometa, svakodnevnog života, kulture i pop kulture.
Show more
HRT - HR2 reviews
...

Miljenko Rebernišak

12.04.2022

Najdraža emisija na hrvatskim radio postajama

ok

o.k. radio

Walter Bruckner

11.11.2020

meine lieblingssender in meiner 2, [wirklichen] heimat!

marjan trajkovski

09.11.2020

👍

Svi komplimenti urednicima glazbe!! 👍💪👍

5

Godinama ih povremeno slušan,dobri stari drugi program,godinama isti,drago mi je da je međuostalim više domaće glazbe,za sportske prijenose nedodirljivi
Information about the radio
Drugi program Hrvatskoga radija slušateljima nudi ležeran cjelodnevni zabavni mozaični sadržaj. Od komercijalnih postaja razlikuje ga to što se na svoj način bavi cjelokupnim spektrom javnih tema i odgovara na sve javne potrebe. Programskom koncepcijom Drugi program prati slušateljev dnevni ritam: ujutro i prijepodne isprepliću se najave dnevnih događanja, korisne informacije i dinamična glazba. Prioritet su nacionalni informativni sadržaji, servisne informacije o vremenu i prometu (cijeli dan emitiraju se redoviti i izvanredni izvještaji Hrvatskog autokluba o stanju na cestama), obavijesti o funkcioniranju javnih službi, predstavljanje manjinskih tema (rodnih, nacionalnih i drugih manjinskih skupina) i udruga, aktivista civilnog društva. Regionalne postaje Hrvatskoga radija na ovom programu cijeloj Hrvatskoj predstavljaju svoje posebnosti i zanimljive informacije od šireg javnog interesa.

Poslijepodne Drugoga programa počinje emisijom Drugi dio dana koja donosi aktualne događaje, a nastavlja se smirivanjem dana autorskim glazbenim emisijama naših priznatih kritičara i "krojača" domaće glazbene scene. Predvečerje i večer često donose sportske prijenose uz obilje glazbe.

Svake večeri u tjednu dan završavamo drugim glazbenim žanrom, od opere i jazza do popa i rocka, uvijek na ležeran i slušateljima Drugog programa prilagođen način.
Radio contacts
informacije: 01/634 34 23, 01/634 33 51