Stand with Ukraine. Save peace in the world!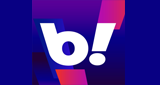 bravo!
Zagreb, 89.0-107.9 MHz FM
"Radio bravo! prva je privatna komercijalna radio postaja s nacionalnom koncesijom. Oglasio se prvi put u eteru 23. prosinca 1997. godine. Do 2022. godine bio je poznat kao Narodni radio. Sadržajno je profiliran kao glazbeni radio, s tim da njeguje i posebne oblike informativnog programa – Dobre vijesti, emisiju o uspješnicama u hrvatskom gospodarstvu, priloge iz kulture, vikend vijesti posvećene turizmu, zdravlju, kvalitetnijem življenju. Čvrsta uređivačka forma s poznatim voditeljima, zanimljivi i zabavni sadržaji, i, naravno, jako, jako dobra glazba glavna su obilježja najomiljenijeg radija u Hrvatskoj.
bravo! reviews
Davorka Rajkovic

05.09.2023

Molim danas malo više Queena,danas je rođendan našeg Freddie, hvala i lp.

Alberto Lipari

16.07.2023

I'm Italian and ... volim Hrvatsku !

Gdje je nestao moj omiljeni radio u Hrvatskoj? Što ćemo slušati na odmoru i često doma?? Playlista koja se ponavlja, previše strane glazbe, previše reklama i hrpa nepotrebnih "navodno smiješnih" unosa. Moram pokrenuti eter i voljeti novi radio.....

Super ste👌

Ocijena jedan iz razloga, nepotrebno ste unakazili najpoznatiji radio i najslušaniji radio u Hrvatskoj pa možda čak i diljem Balkana. Radio je u općem smislu uredu no uvođenje strane glazbe stvarno nije bilo potrebno. Usred pjesme iz 80-90tih vi kasnije puštate neke strane pjesme koje totalno ruše "vibe" stare pjesme te intuiciju slušatelja. Pričao sam s puno ljudi oko ovoga i većina je rekla također ovo. Hvala.

TINELA- M.Kostelac

05.04.2023

Moje mišljenje je da ste pogriješili šta ste uveli stranu glazbu u svoj program meni osobno se ne sviđa!

Renata Marković

16.03.2023

Jako simpa voditelji, lagan, zanimljiv program.

Nina Žnidaršič

22.02.2023

Kad je bio još Narodni radio slušala se je samo Hrvatska glasba. Sada kada imamo Bravo počela se vrtit i strana glasba. Meni so to ne sviđa. Volili bi 100% hrvatsku glasbu. Za tuđu imamo druge stanice.

Nevenka Kuterovac

31.01.2023

Ja vas volim ,meni ste odlični,pogotovo dopodne.

Iritantni i neslušljivi. Svaki dan raspravljate o istoj temi. Muzika katastrofa, pogotovo domaća, svaki dan ista. Glazbeni urednik ocjena 0.