Stand with Ukraine. Save peace in the world!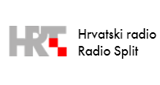 HRT - Radio Split
Radio Split is one of the oldest electronic mass media in the territory of the southern Croatian. He first began broadcasting 22nd travnja 1945th year. Soon after broadcasting was suspended to Radio Split again started its operations on 27th srpnja 1954th The villas of "Rose" in Split. The program first aired three and half hours a day, in the morning when it was not aired identification program in Zagreb. In early 1960s, Radio Split became independent, but as municipalities Split could not finance the work station, 1966th The re-teaming with Radio Zagreb. The 1968th Radio Split moved to the villa "Feric", also in Split.
Show more
TOP songs on HRT - Radio Split
HRT - Radio Split reviews
Volin vas slušat kad se umoran ka tovar vratim sa posla. Lipo zaspin uz sjecanja iz daleke domovine. Pozdrav iz Virginije.

Uvijek vas slusam .Pozdrav ekipi radio Splita iz dalekog Brazila

Najbolji radio u Dalmaciji!

Buduci da sam poslom odvojen od porodice i Splita slobodno vrime provodim slusajuci radio uglavnom od jutarnjih sati do veceri buduci da uz to mogu obavljati druge dnevne obaveze neometano.Radio koji je jos uvik radio u pravom smislu rijeci.Vrhunski prilozi,emisije,odlicna glazba i voditelji za cistu desetku.Svaka cast i puno uspjeha u buducem radu.Dvi klase iznad Dalmacije i slicnih stanica koje su svoje emitiranje pretvorili u posalice i razgovore na nivou kucne zabave.

Lillian Maurel

11.11.2021

Listening from Australia ! Kata you are doing a super job, from your Botica family.

Odlična čujnost, bez prekida! Super!

Uvik dobar,stalno donosi priloge iz cile Dalmacije,nerijetko i cilog svita,mnoge studijske emisije iz vlastitog studija super zanimljive,glazba isto dobra,začin svaki dan vlastiti dnevnik te tri informativne emisije zajedno sa HR mrežom,bez premca su informativne emisije,zaista za svakog ponešto bar i starije i mlađe,otkad postojite isti ste,samo nastavite tako.

ODLICAN..
Information about the radio
Radio Split danas zapošljava 28 djelatnika uz razgranatu mrežu honorarnih suradnika u Splitu i po cijeloj Splitsko-dalmatinskoj županiji. Do trećine od ukupnih prihoda ostvaruje vlastitim marketingom. Stalno se ulaže u tehničku podršku programa i informatizaciju novinarskog rada pa se novinarski prilozi snimaju i montiraju na računalu, a osamdesetak tisuća glazbenih brojeva iz fonoteke dostupno je za emitiranje u roku od nekoliko sekundi. Program Radio Splita se dosta sluša i preko Interneta diljem svijeta, te na FM frekvencijama 101, 102 i 104,5 MHz (uz još neke na rubnim područjima županije). To je rezultat duge tradicije radijske postaje, u kojoj se od početka njezina rada uvijek poklanjala pozornost kulturnome i umjetničkom radu, te profesionalnosti javne riječi.

Pred mikrofonom Radio Splita posao su ispekla vodeća imena hrvatskoga novinarstva, od prvoga novinara Marinka Bojića do brojnih drugih: Zvonko Letica, Davorin Rudolf, Miljenko Smoje, Joško Kulušić, Zdravko Gracin, Frane Jurić, Tonći Petrasov Marović, Jakša Fiamengo, Edo Pezzi… Glazbenim urednicima bili su naši istaknuti skladatelji Vinko Lesić, Ivica Bašić, Zdenko Runjić, Joško Koludrović i Želimir Škarpona. Antologijske folklorne, klapske i dokumentarne emisije pripremao je maestro Ljubo Stipišić, a osobitost je splitskog Radija da je u svojim studijima snimao i stvarao drame. Nezaboravan je serijal od 8 emisija Smij i suze starega Splita Ivana Kovačića, a dramatizirani su i tekstovi Marka Uvodića Splićanina, Miljenka Smoje, Vanče Kljakovića… U tonskoj su arhivi Radio Splita i vrijedni zapisi sa Splitskoga ljeta i drugih važnih javnih, kulturnih i sportskih događ

Frekvencije:
BIOKOVO 102,0 MHz
HVAR 100,2 MHz
KOMIŽA 88,4 MHz
LABINŠTICA 101,0 MHz
DUGOPOLJE 105,3 MHz
BRAČ 104,5 MHz
VRLIKA 105,8 MHz
Radio contacts
Oglašavanje i prodaja ++385 (0)21 366 624
fax. 366 627
faks ++385(0)21 366 614, 366 646