Stand with Ukraine. Save peace in the world!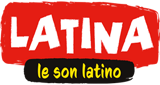 Latina Radio
La page officielle de LATINA, le son latino ! LATINA, la radio du son latino est disponible sur 99 à Paris, 103.1 à Limoges, 93.4 à Troyes 89.4 FM à Annecy et partout sur latina.fr. Découverte de tous les sons et de toutes les cultures latines.
Show more
Latina Radio reviews
Isaac Constant Yuyu

29.04.2021

Tremenda Radio Estación... Un Cordial saludo desde Las Terrenas República Dominicana... La disfrutamos mucho...

Puse en la radio justo cuando sonaba CNCO

Erasmo mejicano

19.03.2020

J'écoute la radio au El Salvador.

Un gros coup de boost dés le matin surtout quand on est hospitalisé...
Information about the radio
Latina (anciennement Radio Latina) est une station de radio parisienne sur la bande FM au 99.0. Née en 1982, elle diffuse exclusivement des sons Latino, Salsa, Merengue, Bachata, ainsi que de la musique créole. Elle diffuse parfois des hits qui évoquent les vacances, la fête et le soleil.

En 2006, la station est rachetée par le groupe orléanais Groupe 1981. Bruno Witek, Laurent Dumay et Jean Eric Valli vont faire évoluer la station avec un nouvel habillage, un nouveau Logo « Le Son Latino » et un nouveau format « latino rythmique ». En octobre 2007, la station arrive première en part de marché sur Paris île de France (126000 IDF médiamétrie).

En juin 2010, Latina devient n° 1 en audience cumulée des programmes locaux sur Paris emmené par Jean-Luc Vibet (source médiamétrie médialocale IDF PDA 13 ans et plus).

Avec une audience en progression constante, Latina consolide sa place de numéro 1 des radios indépendantes d'Île-de- France avec une audience cumulée de 3,6% et 405 100 auditeurs par jour.
Radio contacts