Stand with Ukraine. Save peace in the world!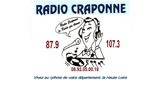 Radio Craponne FM
Craponne-sur-Arzon, 87.9-107.3 MHz FM
Radio Craponne est une radio dynamique de La Haute-Loire, qui bénéficie de nouveautés technologiques, automatisation, son numérique... Elle revendique son statut de catégorie A et son rôle de proximité : organisation de manifestations, de concerts, promotions d'artistes locaux, présence sur les manifestations de La Haute-Loire avec son car podium (Intervillages, participation au Téléthon sur le département chaque année avec la coordination du Téléthon de La Haute-Loire).
Radio Craponne FM reviews
Très bonne radio ! Je remercie radio Craponne pour ses morceaux jazzy" comme disent les djeunes. Dès que j'ai un peu trop bu vers 1 heure du matin, je lance radio Craponne et danse la zumba déjantée avec mon chien Suki... Bref je mets 4,7 pour la très bonne qualité des morceaux... Toutefois j'ai remarqué à regret l'absence de champ tribal d'origine zoulou ou ougandais... Étant un grand fan du OUMAKAKAMAMAMAOOOOO un mouvement musical en hausse en Ouganda j'aimerais si possible que vous revoyiez votre tir et permettiez à tous vos auditeurs de profiter des délices du monde... Bref je conseille fortement !

Luciole Reynaud

09.02.2020

Super ! Vive le nouveau Festival de Country de Craponne sur Arzon 2020 ! !