Stand with Ukraine. Save peace in the world!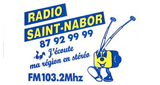 Radio Saint Nabor
Saint-Avold, 103.2 MHz FM
Radio Saint Nabor 103.2 FM est une station radio située dans France. Allumez votre radio pour écouter leurs émissions et leur musique.
Show more
Radio Saint Nabor reviews
Super radio 👍👍👍☺️

Nous sommes actuellement en Allemagne (Bautzen) et écoutons avec plaisir, le matin Radio Saint Nabor. Merci pour la belle musique. Annie et Denis de Drulingen (Alsace)

Bernadette Jaeger

27.03.2023

J.' écoute du matin au soir depuis SARREBOURG 57400 superbe radio locale

nous vous écoutons depuis bien des années et on s en lasse pas même on déménageant en Corse nous sommes très fidèles .formidable ,aussi bien la musique que les animateurs

super radio locale j'adore

Marcelline Hoehn

19.03.2022

Bonsoir , super musique pour tout les goux,

Sabine PAYSSERAND PIERRON

28.01.2022

Bonjour à toutes et à tous, j'adore votre radio. Surtout les chansons des années 80.

jean-marie friderich

25.12.2021

Excellente radio bien de chez nous avec des animateurs (trices) très sympathiques.

Jean Paul Raczak

19.08.2021

Bonjour à tous

Jacques Skweres

16.08.2021

j'aime bien votre radio et j'avais pensé à un nouveau nom pour la radio. Elle s'appellerait radio ou NAWA WANA en réference à la fusion de territoires NABOR ET WARNDT D'ou radio NAWA ou WANA bye a tous .
Information about the radio
Radio Saint Nabor est une radio de proximité basée à Saint Avold, créée en 1995. La radio a trouvé sa place dans le paysage audiovisuel local et participe activement à l'enrichir avec des programmes variés et des animations extérieures: Gaité et bonne humeur, Une Matinée avec Jacky, Souvenirs, Souvenirs, etc...
Radio contacts