Stand with Ukraine. Save peace in the world!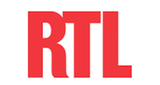 RTL
RTL, sigle de Radio Télé Luxembourg, est une station de radio généraliste privée française de catégorie E, propriété du groupe de médias français M6, dont l'actionnaire principal est le groupe audiovisuel luxembourgeois RTL Group. Elle diffuse principalement en France en grandes ondes, en FM et sur le satellite, et propose ses programmes sur Internet. Elle est régulièrement classée première radio de France en termes d'audience, avec une moyenne de 6,3 millions d'auditeurs quotidiens en 2016.
Show more
RTL reviews
Ici j'apprends français ! Salutations du Pérou !

Муравський Ігор

17.05.2023

Chapito=RTL

Votre collègue Armand Soldin est aussi un artiste du cirque Chapito?

Шапіто- це всі ваші учасники того етеру . Дивись не лусни від сміху

RTL est pour moi qui suis la route toute la journée, sans doute la meilleure radio généraliste.

RTL est une excellente radio, très complète et toujours au top du top. Programmes et programmation musicale très variés pour tout le monde. RTL, l'une de mes radios préférées, j'adore énormément cette station.

Des champions

très bonne chaîne, très complète!

Bonne musique, mais deverai toucher plus chanson en francais!!!

Даниил Черемкин

10.11.2019

Playlist musique de journee: 1+*. C'est un ordures pour les tétes!
Information about the radio
RTL consacre une bonne partie de sa programmation à l'information avec des journaux diffusés chaque heure, accompagnés de bulletins météorologiques. La programmation de la semaine s'articule autour de cinq grands rendez-vous d'information quotidiens dans lesquelles se trouvent de nombreuses chroniques : RTL Petit Matin (4h30-7h), RTL Matin suivi du magazine culturel Laissez-vous tenter (7h-9h30), RTL Midi suivi de la libre-antenne Les auditeurs ont la parole (12h30-14h), RTL Soir suivi du débat On refait le monde (18h-20h) et RTL Grand Soir (22h-23h). Le week-end, la station diffuse RTL Week-end (7h-10h15) et RTL Soir Week-end (18h-18h30) ainsi que les émissions Le Journal Inattendu le samedi (12h30-13h30) et Le Grand Jury (12h30-13h30) et Les Dessous de l'Écran (19h-19h30) le dimanche.

L'autre grande partie de la programmation est le divertissement avec en semaine pas moins de six émissions quotidiennes : Ça peut vous arriver (9h30-11h), À la bonne heure (11h-12h30), L'Heure du crime (14h-15h), On est fait pour s'entendre (15h-16h), Les Grosses Têtes (16h-18h) et La Curiosité est un vilain défaut (20h-22h). Le week-end, d'autres émissions prennent la place : Vincent de 5 à 7 (5h-7h), Allô Bouvard (11h30-12h30), On refait la télé (13h30-14h) et La Première heure de la semaine (00h-1h). Un samedi par mois, Le Grand Studio RTL (15h-16h) se transforme en Le Grand Studio RTL Humour en accueillant plusieurs humoristes. De plus, plusieurs rendez-vous d'information contiennent des chroniques d'humour comme La Chronique de Laurent Gerra dans RTL Matin ou La Chronique de Tanguy Pastureau dans RTL Week-end. Le jeu emblématique de la station, La Valise RTL, se déroule lors des Grosses Têtes.

En plus de diffuser des morceaux de musique tout au long de la journée, RTL compte plusieurs émissions musicales dont certaines sont diffusées la nuit : La Collection Georges Lang (23h-00h) et Les Nocturnes (00h-01h) en semaine, Stop ou encore (10h15-11h30) le week-end et L'Heure du Jazz (23h-00h) le dimanche. De plus, la station invite des musiciens à se produire dans Le Grand Studio RTL (15h-16h) le samedi repris dans 100% Live (15h-16h) le dimanche.

La dernière partie de la programmation de la station est le sport avec notamment la couverture des rencontres sportives de football ou de rugby : Soir de Ligue 1 (20h-23h) le vendredi, On refait le match (18h30-19h30) et Le Multiplex RTL - Ligue 1 (19h30-23h) le samedi, et RTL en direct de l'équipe (19h30-20h), Le Club Liza (20h-21h) et Soir de Ligue 1 (21h-23h) le dimanche.
Radio contacts