Stand with Ukraine. Save peace in the world!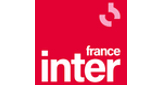 France Inter
Information, divertissement, culture ou musique, venez voir en studio les émissions que vous écoutez habituellement sur France Inter !
Show more
France Inter reviews
Radio de qualité et très professionnelle.

Alberto Pradinett

05.12.2021

Muy buena emisora, para escuchar un precioso idioma como es el frances

Juan Wladislao Sarmiento

04.06.2021

Contento de escucharlos desde Argentina...y educar mis oidos al france... Salut

Rapport au sujet traité: la France a occupée l'Algérie 132 années, a commis tout ce qu'on peut imaginer comme exactions, des assassinats de masses, aux tortures, aux têtes coupées, aux armes chimiques, à celles nucléaires, mais ne veut pas s'excuser. Alors commencer par balayer devant chez vous et après occupez vous de l'affaire turquo-arménienne. Sinon, FI reste et ce depuis 40 années que je la suit, la chaîne radio la plus proche de l'objectivité.

RICARDO FERREIRA

07.03.2021

trés joli !!!

Jonathan da Silva Santos

05.10.2020

Super radio, sujets très importants et bonne musique!

18/20

Very good

Fernando Andres Balducci Sciamanna

18.03.2019

Un radio y un programa con mucho humor.🤩

Rodrigo Torres

25.07.2018

Estimados buenas tardes envío nuestro material musical con mucho cariños para ustedes esperamos que les agrade y se pueda compartir abrazos de concepción ciudad de chile.
Information about the radio
France Inter est une station de radio généraliste nationale publique française du groupe Radio France.
Elle bénéficie d'une couverture très dense en bande FM sur l'ensemble du territoire français et propose par ailleurs ses programmes sur Internet.
France Inter utilise plusieurs moyens pour transmettre ses programmes : Modulation de fréquence (FM), satellite, Internet, iTunes Store.
Radio contacts