Stand with Ukraine. Save peace in the world!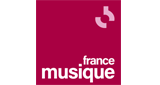 France Musique
France Musique la radio de référence pour la musique classique. Slogan : Ce monde a besoin de musique
Show more
France Musique reviews
super toll prima weiterso !

*****

Eduardo GTS Seabra

22.04.2020

Magnifique

Omar german Mogollon

28.08.2019

Es la primera vez que escucho France Musique, y me parece maravillosa, solo me gustaria que hicieran una pequeña introduccion historica sobre cada grupo mercy boucupe

Danièle Husson

14.10.2016

Grand merci a vous deux pour la decouverte du merveilleux Fritz Wunderlich et pour bien d' autres moments musicaux !

Bernard Vautier

04.09.2016

je crains beaucoup , cette radios est tellement bonne que je crains qu'elle disparaisse

Merci France Musique, continuez dans la direction où vous allez déjà car vous êtes la seule radio musicale digne de ce nom !
Information about the radio
France Musique est une radio publique thématique du groupe Radio France, essentiellement consacrée à la musique classique et au jazz, mais proposant également des programmes sur les musiques électroniques, comédies musicales, musiques dites légères, rock et musiques du monde. Elle assure la retransmission des concerts des deux orchestres du groupe Radio France, l'Orchestre philharmonique de Radio France et l'Orchestre national de France ainsi que du chœur de Radio France et de la Maîtrise.

Elle a été appelée France Musiques pendant quelques années à partir de 1999.

Le directeur de France Musique est Marc Voinchet depuis juillet 2015.

France Musique propose plusieurs rendez-vous quotidiens d'information culturelle et musicale, marqués par des invités de renoms pour les commenter.

La Matinale, de 7 h à 9 h par Saskia de Ville : au programme, un mot du jour, des chroniques et un invité quotidien tous les matins ;
En pistes, de 9 h à 11 h par Emilie Munera et Rodolphe Bruneau-Boulmier : l'actualité du disque ;
Classic Club, de 22 h à 23 h par Lionel Esparza. Du lundi au jeudi soir, Lionel Esparza reçoit depuis le bar de l'Hôtel Bedford des interprètes, des auteurs, des metteurs en scène... pour une conversation intimiste. Chaque jeudi, l'émission prend la forme d'un club des critiques ;
Carrefour de Lodéon de 16 h à 18 h par Frédéric Lodéon.
Les dépêches notes: deux minutes d'information musicale diffusées trois fois par jour (à 7h56, 11h56 et 17h58) animées par Sofia Anastasio. Les informations des « Dépêches notes » sont ensuite reprises et détaillées sur francemusique.fr dans sa partie « actu musicale ».
France Musique organise aussi de nombreuses journées spéciales autour d'interprètes invités (William Christie, Renaud Capuçon, Rolando Villazón) mais aussi en hommage à de grands artistes (Frank Sinatra, Pierre Boulez) d'un thème (la musique klezmer), d'une œuvre (le Boléro (Ravel)) ou encore d'un lieu (Abbaye de Royaumont). La station est également très présente sur les festivals musicaux, en particulier pendant la saison estivale (La Folle Journée, Jazz in Marciac, Festival d'Aix-en-Provence, Festival de Radio France et Montpellier Languedoc-Roussillon, Festival de musique de La Chaise-Dieu...).

Suite aux attentats du 13 novembre 2015 en France, France Musique a bousculé sa grille des programmes en proposant le samedi 14 novembre une matinale spéciale mais aussi un programme musical adapté à l'émotion ressentie par tous les Français après ces évènements. Le dimanche 22 novembre 2015, une journée spéciale intitulée "Vivre" a mis en avant sur l'antenne les choix musicaux des auditeurs et des producteurs de la chaine en hommage aux victimes et a invité des acteurs du monde musicale et culturel à s'exprimer.
Radio contacts