Stand with Ukraine. Save peace in the world!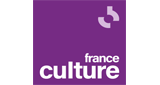 France Culture
Par les bonnes ondes hertziennes ou numériques, transmettre, partager, échanger sur les idées, les savoirs et la connaissance. Et pour découvrir la diversité des programmes de France Culture, découvrez sur son site tous ses univers : Spectacles, Société, Sciences, Littérature, Idées, Politique/Economie, Arts visuels, Création radiophonique, Evasion, Histoire, Musiques .
Show more
France Culture reviews
Simone Bittencourt

19.04.2023

I love listening to France Culture. There is a lot of quality information, a vast diversity of subjects, the radio hosts and their guests are very knowledgeable. What a pleasant experience it has been. How wonderful! Merci beaucoup a vous!

vive la redevance audiovisuelle et la radio de qualité (et de service public )
Information about the radio
France Culture est la station de radio culturelle nationale publique française du groupe Radio France. Elle a été fondée sous ce nom en 1963, mais existait auparavant.
Avec France Culture découvre le monde de l'information, de la littérature, de l'art, des spectacles, de l'histoire et des sciences. La radio qui rend plus intelligent. Depuis plus de 50 ans!
Radio contacts