Stand with Ukraine. Save peace in the world!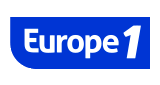 Europe 1
Strasbourg, 87.6-106.7 MHz FM
Bienvenue sur la page officielle d'Europe1 pour commenter l'actualité et réagir à nos programmes !
Show more
Europe 1 reviews
Daniel Cherriomkins

19.04.2021

Oui, je suis un con, ainsi que tout dans ce monde. Nous sommes tous insignifiants. Et le Seigneur est notre juge.

Jean-Pierre Weber

23.02.2021

Daniel Cherriomkins est un con qui doit rester chez lui et pas sortir sur internet.

De Prey Vincent

17.06.2020

Beaucoup de fautes de français sur les ondes ...(TV, radio et autres). Par exemple, on roule "À vélo" et pas "en vélo" ... Sinon, pourquoi ne pas dire "en cheval" ! L'expression : "d'ici À mercredi", et non pas "d'ici mercredi" !

Christella en Jésus

18.10.2019

Très intéressant
Information about the radio
Europe 1, anciennement Europe no 1, est une radio privée généraliste française de catégorie E créée le 1er janvier 1955 par Charles Michelson et Louis Merlin.

Depuis 1974, elle appartient à Lagardère SCA.
Des émissions et chroniques de divertissements composent la grille de journée, incarnée par Anne Roumanoff, Alessandra Sublet ou encore Nicolas Canteloup, le matin.

Les divers magazines abordent des thématiques variées : actualités médias, vie quotidienne et santé, histoire, cinéma, musique. La station propose également des émissions d'entrevues abordées sous divers prismes : musique, amitié, carrière, ...

Enfin, une couverture sportive, principalement centrée sur le championnat de football, est proposée les soirs de week-end.

En semaine, une majorité de programmes étant dépendant de l'actualité ou dont le format (libre-antenne avec les auditeurs), l'antenne est majoritairement produite en direct, à l'exception de l'émission de Nikos Aliagas et de Christophe Hondelatte, pour des questions de productions et de disponibilités des invités.

Le week-end, le direct se limite aux rendez-vous d'informations pures (6h/9h, les flashs et journaux + C'est arrivé / Le débat des Grandes Voix), aux soirées sportives et à la libre-antenne de fin de soirée.
Radio contacts