Stand with Ukraine. Save peace in the world!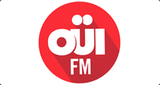 OUI FM la Radio du Rock
OUI FM - Faites du bien à vos oreilles.OUI FM, la seule, l'unique radio Rock ! Sur les ondes, sur ouifm.fr, sur votre mobile ou votre télévision, faites le plein de son rock avec des nouveautés, des perles rares, des lives...
Show more
Related radio stations
Show more
OUI FM la Radio du Rock reviews
Bonjour, nous residons dans les Pyrenees Orientales près de Ceret. La fibre Orange a été installée depuis cet automne et ces 2 derniers mois nous avons beaucoup de difficultés à capter oui fm sur notre télé. Votre radio est devenue quasi inexistante. Avez vous un problème ou devons nous entreprendre une modification pour pouvoir enfin vous écouter.
Information about the radio
Écoutez la Radio du Rock sur votre ordinateur avec le player OUI FM ! Depuis 30 ans, OUI FM est fidèle à son format originel de radio rock et transmet à travers ses programmes et sa musique une vraie philosophie, avant-gardiste et découvreuse de talents.
Radio contacts