Stand with Ukraine. Save peace in the world!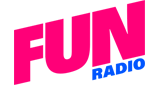 Fun Radio
Écoutez Fun Radio où et quand vous voulez, Le Son Dancefloor rythme votre journée !
Show more
Fun Radio reviews
cindy ingelaere

12.08.2020

super radio!!!!!!! merci a toute l equipe!!!!!!!

Dominique Bougamont

03.07.2020

bonne vacance a toute l équipe et vivement la rentrée hâté de vous retrouver

dominique bougamont

04.04.2020

merci super musique et grand merci a Bruno le matin j adore j espère que ça va rester a la télé même après le confinement.
Information about the radio
Dès 6h, écoutez la famille avec Bruno Dans La Radio, le rendez-vous incontournable avec Bruno, Vacher, Christina et Eliott : du son Dancefloor, de l'info, du JPI, des jeux, des invités, et de la bonne humeur. Toute la journée, restez à l'écoute du meilleurs Son Dancefloor. Le soir, retrouvez de 20h à 22h Lovin'Fun avec Karel, Alice et le Doc pour discuter de Sex, d'Amour et de Fun. Ils répondent à toutes vos questions et vous aident à trouver des solutions à vos problèmes.

Finissez votre soirée de 22h à minuit avec Marion & Anne So : Le Night Show c'est l'émission où tout peut se passer... mais vraiment tout ! Pendant 2h, les filles vous attendent pour déconner et parler de ce que vous voulez !

Tous les vendredis et samedis soirs retrouvez Party Fun : des résidences et guests de DJ français et internationaux pour écouter des mixs Dancefloor.

Sans oublier le Before Party Fun, Fun Club 40, EuroDance25, DédiFun, Fun Games…
Radio contacts