Stand with Ukraine. Save peace in the world!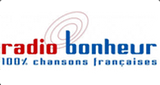 Radio Bonheur
Pléneuf-Val-André, 99.1 MHz FM
100% chansons Françaises!Radio Bonheur, 100% chansons Françaises, FM 99.1, Pleneuf-Val-Andre. Écoutez en direct, voyez playlist et information de la station en ligne
Show more
Radio Bonheur reviews
j habite dans le nord 59 j ecoute beaucoup radio bonheur via internet j adore la bretagne (pléneuf val andré )

Super

c'est de loin la plus belle de toutes les radios française et que des chansons bien a nous ne changer surtout pas continuer j'adore radio bonheur et merçi a toutes et tous ceux de cette tres belle radio

Bonjour,

Francesco Gigli

23.01.2023

musica molto allegra e piacevole la mia preferita mi ricorda questo bel paese dove o vissuto per 23 anni ai francesi consiglio ascoltare subasio ciao

Jean-claude Templon

21.10.2022

eh oui! de Montréal c'est avec joie que nous ecoutons Radio Bonheur.Merci pour cette belle musique,alors que nous sommes confines.Cet été nous allons installer un speaker pres de la piscine et ce sera pour Radio Bonheur.

dimanche 27/03 bon anniversaire à Marie France d'Yffiniac pour ses 75 printemps

Gérard Deaucourt

11.01.2022

Bonjour à toute votre équipe, vous avez su créer réellement une super station. je vous écoute via Internet pratiquement tous les jours de Pouligny St-Pierre, Dépt Indre, (vous savez le fromage de chèvre pyramide)

J'habite en Russie, j'écoute vos chansons chaque jour! Merci beaucoup! J'aime radio Bonheur!

Je suis de la Colombie et je vous ecoute toutes les jours. Merci beacoup pour la belle music. Jean Ferra chante aragon le plus belle disc. Merci....merci beacoup. Je suis JOSE AGUIRRE OLIVA - COLOMBIA. VIVE LA FRANCE.....
Information about the radio
Radio indépendante, découvrez nos lecteurs pour apprécier notre programmation 100% française! Profitez de nos animations, nos petites annonces, nos dédicaces, nos discutions en direct, bref, une radio vivante, plein de bonheur!
Radio contacts
fax : 02.22.44.04.24