Stand with Ukraine. Save peace in the world!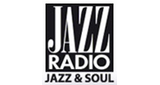 Jazz Radio
Jazz Radio est une station de radio FM créée en 1996 à l'origine sous le nom de Fréquence Jazz. Elle est devenue au fur et à mesure la première radio de Jazz en France diffusée 24h sur 24.
Show more
Related radio stations
Show more
Information about the radio
Jazz Radio est une station de radio française basée à Lyon, fondée en 1996, diffusant ses programmes nationalement sur 45 fréquences dans toute la France ainsi qu'à Monaco. Elle fait partie du collectif Les Indés Radios.

La station est, comme son nom l'indique, surtout dédiée au jazz, mais elle présente également une programmation variée : du jazz, de la soul, et parfois même une touche de chill-out, du funk, du blues, ou encore du gospel.

Le 10 janvier 1996, la station fut créée à Lyon par Christophe Mahé sous le nom de « Fréquence Jazz », devenant ainsi la première radio station de jazz en France qui soit diffusée 24 heures sur 24.

En août 1996, la version parisienne de Fréquence Jazz a été créé et commence à diffuser sous le nom Paris Jazz, mais avec une programmation différente que la lyonnaise.

En juin 2008, Fréquence Jazz prend le nom de « Jazz Radio ». Puis en juillet 2008 Jazz Radio a commencé à diffuser sur 4 nouvelles fréquences dans les régions du Centre et des Midi-Pyrénées. À la fin de 2008, Jazz Radio poursuit son extension de fréquences dans toute la France avec 9 nouvelles fréquences dans le nord et l'est de la France.

Le 15 mai 2012, Jazz Radio commence à diffuser à Monaco sur la fréquence FM de 95,7 MHz.

En janvier 2013, Jazz Radio a commencé à émettre en numérique à Paris sur la RNT.
Radio contacts