Stand with Ukraine. Save peace in the world!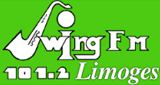 Swing FM
Ce que présente Swing FM sur son antenne, c'est d'une part ce que l'on peut appeler l'âge d'or du jazz avec les très nombreux enregistrements des fondateurs afro-américains et, d'autre part, les meilleurs enregistrements des jazzmen actuels que le Hot Club, pour sa part, vous présente dans ses concerts.
Show more
Swing FM reviews
Gilles Berthenet

21.10.2022

La Meilleur des radios Jazz Swing.

Część!! Jeżdżę ciężarówką po całej europie i po usłyszeniu waszego radia przepadałem, będę was słuchać chyba NON-STOP. Pozdrawiam Krzysiek z Polski

Michael Waite (maleconmike)

18.02.2022

Yessir' I like to Swing..always since I was a kid..maybe 70 years ago. Of course the Beatles

bardzo dobrze to jest jazz konin polska

Biennial. ..Mais tropical details coupures

Christian Rasmussen

09.03.2019

best program, but too much Gospel Music!

Sergio rodriguez Olivares

03.04.2017

Je suis très content avec vous...Excellent !!!!!
Information about the radio
La radio Swing FM
Dès la fin des années 20 aux U.S.A. (un peu plus tard chez nous), la radio a été un moyen de faire connaître le jazz à un large public.

C'est pourquoi Jean-Marie MASSE n'a cessé, depuis 1947, de diffuser cette musique sur diverses antennes.

Dans les années 60, il abandonnera même son statut de musicien professionnel pour celui de producteur/animateur.

Quand, une quinzaine d'années plus tard, il quittera Radio France Limoges, il sera rapidement sollicité par Martine JACOB pour animer une émission de jazz sur diverses antennes que dirigea cette spécialiste des médias.

En 1989, elle mit même à sa disposition un émetteur et une antenne lui appartenant pour créer Jazz FM, une «radio libre» diffusant du jazz sans interruption.

Les radios, dites «libres», ayant disparu en 1991 pour céder la place à des radios associatives agréées par le Conseil Supérieur de l'Audiovisuel, des membres du Hot-Club décidèrent de créer une association gérant une radio entièrement dévolue au jazz qui prit le nom de Swing FM et put démarrer grâce au soutien d'André CESSART, alors Directeur de l'entreprise Jean LEFEBVRE Sud-Ouest, devenue EUROVIA.

Grâce à une informatisation de plus en plus poussée de ses moyens de production, Swing FM offre aujourd'hui, 24 heures sur 24, un programme varié très apprécié de ses auditeurs, tandis que, chaque semaine, l'émission SwingTime y est toujours animé par divers intervenants passionés et pédagogues.

Cette réussite est aussi due au dévouement des bénévoles de Swing FM, ce qui prouve qu'aujourd'hui le jazz suscite toujours la même passion qui animait déjà, en 1938, Roger BLANC et Jean-Marie MASSE.
Radio contacts