Stand with Ukraine. Save peace in the world!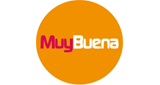 Muy Buena Elche
De ámbito nacional y con una radio-fórmula actual, fresca y alegre, MuyBuena es la emisora musical preferida por los oyentes de entre 15 y 40 años. La llegada del pop anglosajón y latino a nuestro país, relegó a un segundo plano al pop español. Fue entonces cuando los artistas empezaron a modificar su estilo para adaptarse al sonido de moda y cuando nacieron nuevas emisoras como Muy Buena, dando así vida al pop latino actual, con canciones llenas de energía positiva de grupos y artistas de renombre como Luis Fonsi, Shakira o Ricky Martin.
Show more
Information about the radio
Esta música bailable y que todo el mundo canta es la que Muy Buena transmite, por lo que es una emisora que acompaña al oyente en cualquier momento del día y en cualquier situación (en casa, en el trabajo, de viaje...). ¡Y es que a todo el mundo le gusta escuchar música que transmite buen rollo!
Radio contacts