Stand with Ukraine. Save peace in the world!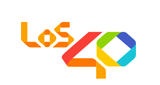 Los 40
Los 40 - La emisora que te pone éxitos las 24 horas del día, te acerca a tus artistas y te entretiene todo el día. Todas las novedades musicales, lo que tienes que saber de tus artistas favoritos, los vídeos más virales, conciertos, acústicos.... Music Inspires Life
On the air Los 40
| | |
| --- | --- |
| Live | No te pierdas los sábados World Dance Music |
| 01:25 | Anda Ya!, buenos días, buena música, buen rollo |
| 01:20 | Dale volumen a tu radio, LOS40 Dance |
Los 40 playlist
Los 40 reviews
EDGARDO GUTOVI

02.04.2023

Hola! Saludos desde El Difícil, Madgalena, Colombia. Excelente programación musical. ¡Infinitas bendiciones!

Good

Pepe Romero Fernandez Romero

29.12.2022

Genial compañia

Augusto Allende Rodriguez

26.12.2022

Rojos

Barbara Collins

29.07.2022

googd

Humberto Fajardo

13.07.2022

Spn puros comunistas. Asquerosos

Romina Curatolo

18.05.2022

Holaaaaaaaaaaa!!!!!!! Desde Italia excelente programación..buena musica e buyena compania,,,,Gracias!!!!!!!

david constantino olaguivel durand

17.05.2022

Muy buena música, saludos desde Perú

Alejandro Lopez Mena

19.03.2022

No funciona sus antenas. Qué día se pondrá?

Alicia Escobar Nunez

22.01.2022

Holaaa, Saludos desde Paraguay, excelente programación...