Stand with Ukraine. Save peace in the world!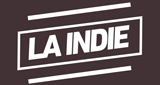 La Indie
Somos pocos, pero con criterio. La Indie es la última creación de Emisoras Musicales. No esperamos que la entiendas, pero te gustará seguro. Porque ponemos Izal, Love Of Lesbian, Dorian, Vetusta Morla, Miss Cafeína, Carlos Sadness, La Casa Azul, El Columpio Asesino, La Habitación Roja. Aquí no escucharás reggaetón ni canciones de La Oreja de Van Gogh.
La Indie reviews
Francisco Morales

15.09.2022

Podríais dar más bola a grupos emergentes como Morning Drivers, Lala LOVE You y poner algo más del nuevo trabajo de Dorian

Necesito que dejen de poner la canción de la nueva promesa del indie argentino "tiro la moneda arriba", por lo demás genial, la escuchamos siempre en la oficina salvo cuando ponen esa canción. La mejor música indie.

Marta Canino Romero

19.05.2021

Buenísima música y muy refrescante escuchar todos estos grupazos en una sola emisora!!